PENGARUH PERSEPSI HARGA, KERAGAMAN PRODUK DAN SUASANA TOKO TERHADAP KEPUTUSAN PEMBELIAN
Rafa Wina Widiarto

Meylani Tuti
Keywords:
Persepsi Harga, Keragaman Produk, Lingkungan, Pilihan Pembelian, Statistik, SEM, SmartPLS 3, Incidental Sampling
Abstract
Tujuan penelitian ini adalah untuk mengetahui dampak persepsi harga, keragaman produk, dan lingkungan terhadap pilihan pembelian. Metode penelitian menggunakan statistik. Analisis data menggunakan SEM dengan bantuan program SmartPLS 3. Menggunakan teknik incidental sampling, 100 pelanggan Dunkin' Donuts yang tepat dipilih oleh peneliti membentuk sampel untuk penelitian ini. Temuan menunjukkan bahwa meskipun lingkungan tidak mempengaruhi keputusan pembelian, persepsi harga dan keragaman produk mempengaruhi. Penelitian ini hanya menggunakan tiga variabel independen yang mempengaruhi variabel keputusan pembelian. Untuk penelitian lebih lanjut, disarankan untuk menambahkan variabel lain dan memperluas area penelitian
References
Alma, B. (2006). Manajemen Pemasaran dan Pemasaran Jasa (Keduabelas). CV Alfabeta.
Arman. (2022). Introduksi Manajemen Pemasaran.
Berman, B., & Evans, J. R. (2013). Retail Management: A Strategic Approach (Twelfth Ed). Pearson Education.
Calvo Porral, C., & Lévy-Mangin, J. P. (2015). Do Store Image and Price Perception Matter to Store Brand Equity? Journal of Food Products Marketing, 21(1), 102–122. https://doi.org/10.1080/10454446.2013.843486
Fornell, C., & Larcker, D. F. (1981). Evaluating Structural Equation Models with Unobservable Variables and Measurement Error. 66(December), 37–39.
Gunawan, D. (2022). Keputusan Pembelian Konsumen Marketplace Shopee Berbasis Sosial Media Marketing.
Helsar, O., Tobing, L., & Setiawan, B. (2020). Pengaruh Persepsi Harga, Varian dan Kualitas Produk Terhadap Keputusan Pembelian Smartphone Xiaomi ( Survey Persepsi Mahasiswa IBIK Bogor ). Jurnal Ilmiah Manajemen Kesatuan, 8(2), 95–104.
Indasari, I., & Bachri, S. (2021). Pengaruh Suasana Toko Terhadap Keputusan Pembelian Konsumen Pada Mr.Dav Coffee Shop Palu. Jurnal Ilmu Manajemen Universitas Tadulako (JIMUT), 7(1), 030–038. https://doi.org/10.22487/jimut.v7i1.215
Indrasari. (2019). PEMASARAN DAN KEPUASAN PELANGGAN pemasaran dan kepuasan pelanggan.
Karimi, S., Papamichail, K. N., & Holland, C. P. (2015). The effect of prior knowledge and decision-making style on the online purchase decision-making process: A typology of consumer shopping behaviour. Decision Support Systems, 77, 137–147. https://doi.org/10.1016/j.dss.2015.06.004
Klarner, P., Sarstedt, M., Hoeck, M., & Ringle, C. M. (2013). Disentangling the effects of team competences, team adaptability, and client communication on the performance of management consulting teams. Long Range Planning, 46(3), 258–286. https://doi.org/10.1016/j.lrp.2013.03.001
Kotler, P., & Amstrong, G. (2008). Prinsip - Prinsip Pemasaran (Keduabelas). Erlangga.
Kotler, P., & Armstrong, G. (2018). Principles of Marketing 17th Global Edition. In Pearson Education Limited.
Kotler, P., Armstrong, G., & Opresnik, M. O. (2018a). Principle of Marketing (the Sevent).
Kotler, P., Armstrong, G., & Opresnik, M. O. (2018b). Principles of Marketing (Electronic Version). 1–736.
Kotler, P., & Keller, kevin lane. (2012). marketing management (14th ed.). prentice hall, one lake street,upper saddle river, new jersey 00458.
Lamb, C. W., Hair Jr, J. F., & Mcdaniel, C. (2011). Marketing. In Climate Change 2013 - The Physical Science Basis (Vol. 1). http://ebooks.cambridge.org/ref/id/CBO9781107415324A009
Liu, C. H. S., & Lee, T. (2016). Service quality and price perception of service: Influence on word-of-mouth and revisit intention. Journal of Air Transport Management, 52, 42–54. https://doi.org/10.1016/j.jairtraman.2015.12.007
Manfred Bruhn, D. G. (2016). Services marketing. In The Marketing Book: Seventh Edition. https://doi.org/10.4324/9781315890005
Oktaviani Sally, Komariah Kokom, F., & Z, M. (2021). Keputusan Pembelian Berdasarkan Harga, Keragaman Produk Dan Pengaruhnya. Analisis Standar Pelayanan Minimal Pada Instalasi Rawat Jalan Di RSUD Kota Semarang, 3, 103–111.
Perreault, W. D., Cannon, J. P., & McCarthy, E. J. (2010). Essentials of Marketing: A Marketing Strategy Planning Approach (12th Ed.).
Putra, I. D. permana, & Subakir. (2020). Pengaruh Persepsi Harga & Kualitas Produk Terhadap Keputusan Pembelian Batik Zulfah Tanjung Bumi. Journal of Sustainability Bussiness Research (JSBR), 1(1), 290–294. https://doi.org/10.36456/jsbr.v1i1.3007
Rahmadhani, R., & Prihatini, A. E. (2019). Pengaruh Electronic Word Of Mouth Dan Perceived Risk Terhadap Keputusan Pembelian Pada Konsumen Tokopedia. Jurnal Administrasi Bisnis, 8(1), 23–30. https://doi.org/10.14710/jab.v8i1.23766
Rotinsulu, Y. O. A. S. J. (2018). Pengaruh Kualitas Pelayanan, Keragaman Produk Dan Citra Terhadap Keputusan Pembelian Di Matahari Mega Mall Manado. Jurnal EMBA: Jurnal Riset Ekonomi, Manajemen, Bisnis Dan Akuntansi, 6(4), 3953–3962.
Sangaji, E. M., & Sopiah. (2016). Salesmanship (Kepenjualan). PT Bumi Aksara.
Sarstedt, M., Ringle, C. M., & Hair, J. F. (2020). Handbook of Market Research. In Handbook of Market Research (Issue September). https://doi.org/10.1007/978-3-319-05542-8
Sugiyono. (2017). Metode Penelitian Kuantitatif, Kualitatif, dan R&D. Alfabeta.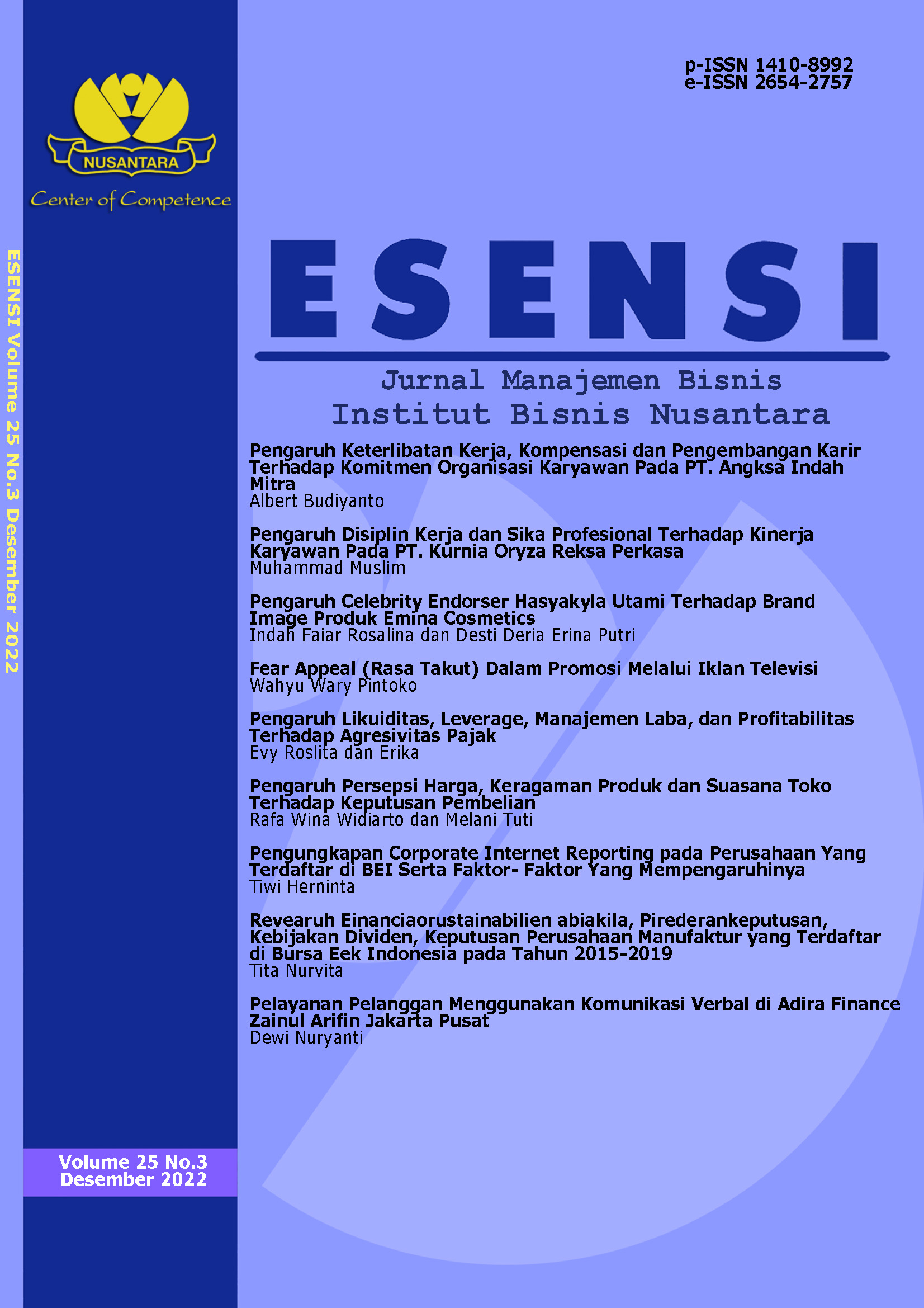 How to Cite
Widiarto, R., & Tuti, M. (2022). PENGARUH PERSEPSI HARGA, KERAGAMAN PRODUK DAN SUASANA TOKO TERHADAP KEPUTUSAN PEMBELIAN. ESENSI: Jurnal Manajemen Bisnis, 25(3), 259-267. https://doi.org/10.55886/esensi.v25i3.539